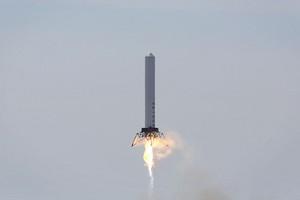 Private space company SpaceX conducted another test booster Grasshopper.  
Grasshopper managed to overcome a height of 80 meters / spacex.com
The company said that during the fourth test, the unit rose to a record high of 80, 1 meter, hung in the air for about 34 seconds, and then successfully landed.
Note that the first flight of a Grasshopper made in September last year, but then the rocket rose by only 2, 5 meters. In November, the unit overcame a height of 5, 4 meters, and in December - 40 meters.
Missile itself reaches a height of about 33 meters and consists of a first stage rocket Falcon-9 engine Merlin 1D, four poles made of steel and aluminum, and steel supports.