Soon it will start the swimming season, but preparations for it have prudent girls in full swing. It is necessary to tighten and shape, to prepare the skin and hair, update your wardrobe ... And the most important item of clothing Beach - a beautiful bathing suit, who was created to enhance the beauty of the female body. I propose to look at different brands of swimwear.
Swimwear 2012: Lanvin
In summer 2012 Lanvin offers elegant draped swimsuits. In a bathing suit from Lanvin woman on the beach will remind the Greek goddess.
Swimwear 2012: YSL
Retro-stylish swimwear from YSL turn you into a girl 30s. Yves Saint Laurent has developed 4 models: Two-Piece Bikini panties with high waist and gold buttons, white swimsuits à la knotted handkerchief with a picture, "red flower" and bikini with "poppy" prints, as well as fused leotard with a print "anchor."
Swimwear 2012: Isabel Marant
Isabel Marant young girl offers a separate swimsuit gentle blue-denim cotton. The value of 140 euros, by the way.
Swimwear 2012: Jean-Paul Gaultier for La Perla
Jean-Paul Gaultier designed two collections for La Perla under the telling name: Bondage (captive), and Marin (vest).
The first collection includes 4 models with laces and drapery three separate bathing suit and one fused. Colours: black, orange and khaki.
The second collection fully reflect its name - telnyashka- looks pretty safe. Swimwear striped and colored stripes alternate with transparent! Tsetov solution: turquoise, blue, white and black.
Swimwear 2012: Miu Miu
Swimwear 2012 from Miu Miu made in the retro style. The special charm of this swimsuit attach bows, ruffles, prints with flower petals and neck with drapery. The color range is diverse: blue, red, orange, pink and black.
Swimwear 2012: Burberry
Lovers bikini enjoy summer collection Burberry. There Burberry relies not so much on the form, and print - ethnic and classical cell. As for One Piece Swimsuits, here we can see it is the original model: strapless swimsuit, swimwear and elastic band-trikini.
Swimwear 2012: Chanel
Chanel Fashion House offers elegant swimsuits fused in black or black and white.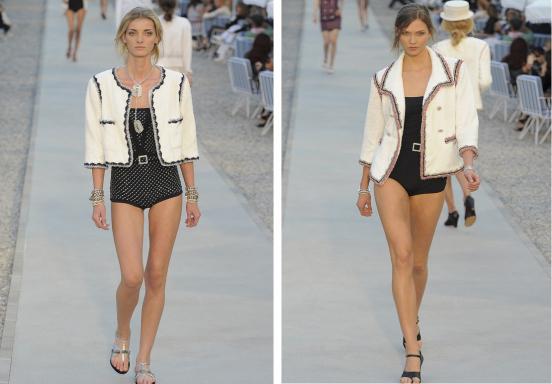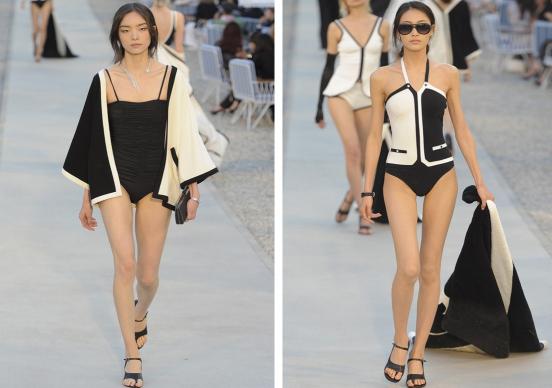 Swimwear 2012: tankini from Victoria's Secret
Swimwear tankini (top and pants) from the famous brand Victoria's Secret presents three types: plain, colored and printed with "zebra". Swimwear beach more like a mini-dresses.
Swimwear 2012: trikini from Victoria's Secret
Sexy swimsuit model with animalic prints with ruffles and drapes are suitable only for those who have a perfect figure and perfect breast shape. And bathing suits like the girls who prefer monokini.
Swimwear 2012: Banana Moon
Banana Moon has developed two collections: Banana Moon Sneak Peek et Banana Moon Couture.
Banana Moon Sneak Peek
Banana Moon Couture
Swimwear 2012: Victoria's Secret
Swimwear from this brand always sexy and full of life. The highlight of this collection are a variety of prints and ruffles.