Movie stars, turned into characters in the film, will gather at the world premiere of the film, which will be held February 25, 2010 in London with the participation of director Tim Burton picture, Johnny Depp (Mad Hatter), Anne Hathaway (The White Queen), Helena Bonham Carter (The Red Queen ), Mia Wasikowska (Alice) and British comedian Matt Lucas (Tweedledum and Tweedledee twins). The Prime Minister also visited by His Royal Highness The Prince of Wales and The Duchess of Cornwall.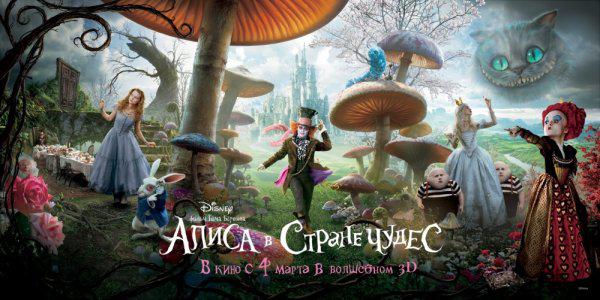 On the red carpet will also distinguished British actor, gave their votes to the amazing inhabitants of Wonderland - Stephen Fry (Cheshire Cat), Alan Rickman (Caterpillar absolutes), Michael Sheen (White Rabbit), Paul Whitehouse (March Hare), Timothy Spall (Beagle Bayard), Barbara Windsor (Mouse Sonia) and Christopher Lee (Jabberwocky).
This is truly an incredible event promises to bring to the center of London atmosphere of mystery and magic of Wonderland. Grand premiere in Leicester Square, held in support of the charity fund Prince Charles «Foundation for Children & the Arts». Two thirds of the revenue from ticket sales will be donated to the fund.