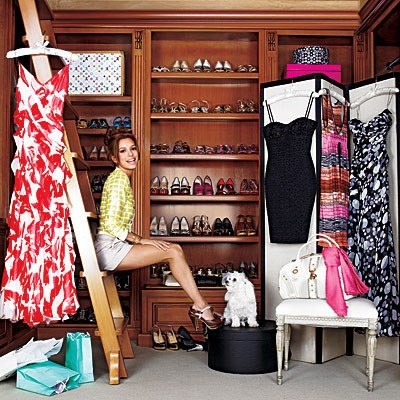 1. Perfect Jeans - 2 pcs. Some are lighter, darker than the other. The main thing is that they are relevant to you is the model, we emphasized all the advantages and hide flaws. And remember - Jeans is one of those things that are not worth saving!
2. The white and black shirts. There is a basic collection of all brands, from the most popular to the most expensive. Try to take this thing out of the dense fabric with elastane - it is most advantageous to look and most socks.
3. Black and beige shoes pumps heels at an average. Steady! In your wardrobe can be 500 pairs of shoes, but these two - simply must be, and must be of good quality and expensive. Firstly because they are universal and never go out of fashion, and secondly, comfortable shoes and heels exactly make them permanent obitetelyami your legs.
4. Pencil skirt. There is everything. Masthev! Slim, ennobles. Now in vogue skirt with a high waist - pay attention!
5. Trouser suit - can be light! In the summer it is very gentle, though business image. With her hair and contrasting jersey - it looks just gorgeous! In addition, the jacket can be worn separately - with jeans or even shorts. A pants - with shirts in a nautical theme)
6. Black roomy bag - no comment. Although there is: choose a quality leatherette or natural leather.
7. The little black dress. Or red. Or even blue or white. The main thing that it was a cocktail, and you really went on, combined with capes, jackets, sweaters and jumpers voluminous. wear with sandals, ballet flats and slippers. Or boots.
8. Many beautiful lingerie - in ruffles, and with funny pictures (yes, they, too, like men! Rather, they see this as our sense of humor and independence from public opinion - in any case, panties with pigs you just hand ).
9. And be sure to buy yourself more beautiful makeup, cover for documents, wallet, housekeeper, business card holders, diary, pen and other necessary little things. Style in the details!