Of course, many cities do not have their own unique faces. However, this statement does not concern Chicago — this metropolis is bright, beautiful and colorful! In particular, thanks to such art-projects as unusual color installation Color Jam, which appeared recently in one of the crossroads in the centre of the city.
Often associated with transport is, indeed, beautiful. At best, it is functional and at least not annoying. But, most of all, the word "transport" is synonymous with the word "negative". However, in Chicago there was a very unusual object, which breaks all the existing stereotypes with regard to the transport infrastructure!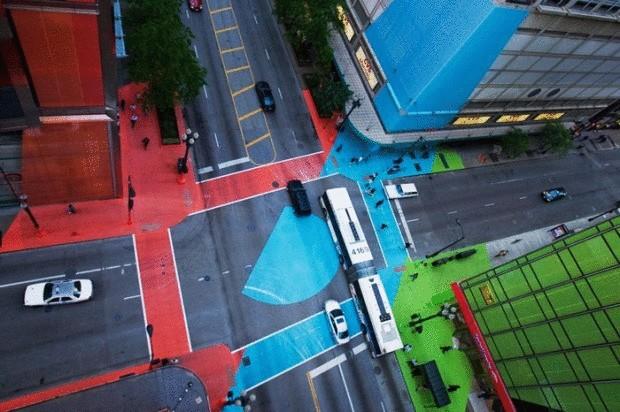 We are talking about installation, Color Jam, was created by artist Jessica Stockholder (Jessica Stockholder). Moreover, this work is quite unlike anything we have seen before called "installation".
Color Jam is a regular urban intersection that Jessica Stockholder turned into a work of art. She painted the different parts in different colors, and even draped the corners of the huge panels in the appropriate color palette.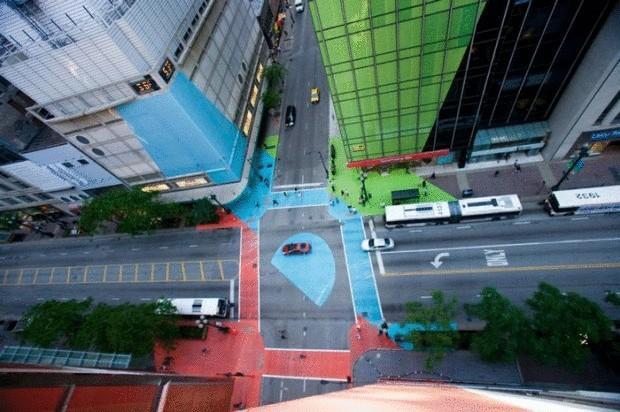 So motorists and pedestrians, driving or passing through the junction was inside a huge easel, full of bright colors. Moreover, the transitions between colors are made right in front of people on the sidewalk, driving parts, the walls of buildings. The Jessica Stockholder calls work Color Jam, "a three-dimensional picture." The installation of Jessica Stockholders Color Jam is the largest work presented in the exhibition of contemporary art organized by the art group Chicago Loop Alliance.
Source: /users/117