Probably, at present, few of urban residents is not at least one payment card. And most of the citizens of such cards at least three or four. And this is understandable, because to keep a minimum cash is much safer. But MasterCard is committed to making its services and its product is not just secure but also more convenient, therefore, continues to improve their payment card.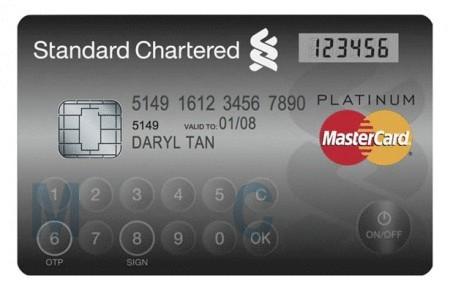 This new generation of your Bank card, because it is equipped with a Display Card technology to provide users the best protection when run through it with their hard-earned money. To release this interactive payment card, which is equipped with touch buttons and a built-in display for improved security and control, MasterCard has teamed up with Singapore Standard Chartered Bank. Manufactured by NagraID Security, this card works just like a standard payment debit or credit card, but with the addition of an embedded LCD display and touch buttons that allow the user to generate one-time password that acts as additional security measures.
Currently banking institutions use different authentication tokens for online banking service, but when you use this device "two in one" process may become more practical. The card can also display information such as available credit balance, and the last committed transaction or any other interactive data. And with the internal memory of this smart card is available to capture participation in loyalty programs and bonus offers. Using this technology we are now able to see firsthand the future of payment cards, after all, followed by Singapore and the United States in 2013 the production of such maps is planned in Europe.
Source: /users/104