The term "Smart home" is now usually called the room, which has several connected electronic devices and appliances, specially programmed to perform certain actions. Their task is to save money, energy and efforts of users.
Such a system is sometimes referred to as "home automation", and its ordinary manifestations are present in many modern homes. As an example of such a "primitive" system can result in automatic garage doors.
Smart systems today are much more advanced. They may include several devices, which can be controlled via the Internet. It all started with the idea of the so-called Internet of things (IOT) is a broad network of smart devices that can collect and analyze data and based on them to make their own decisions.
One of the first security system and alarms that use sensors to determine, for example, whether the door is open. If when the sensor is triggered to enter a secret password, the system can sound the alarm and notify the security services.
Today's home security systems fit in the palm of your hand, and control them from anywhere and anytime with your smartphone. Examples of such systems can serve as a Cocoon, Piper, Kibbi, which is available microphone, speaker, siren and automatic enable/disable protection based on the testimony of the GPS sensor of the mobile device. Sometimes these devices are able to "know" about the activity in the nearby areas.
An integral part of home security systems are a smart surveillance system. A small camcorder is a small server with your own address on the Internet. With the advent of the smart home has become possible to view live video from any distance, not only in the immediate vicinity as before. The production of such devices do many suppliers, among which are Smarthome, Insteon, Q-See.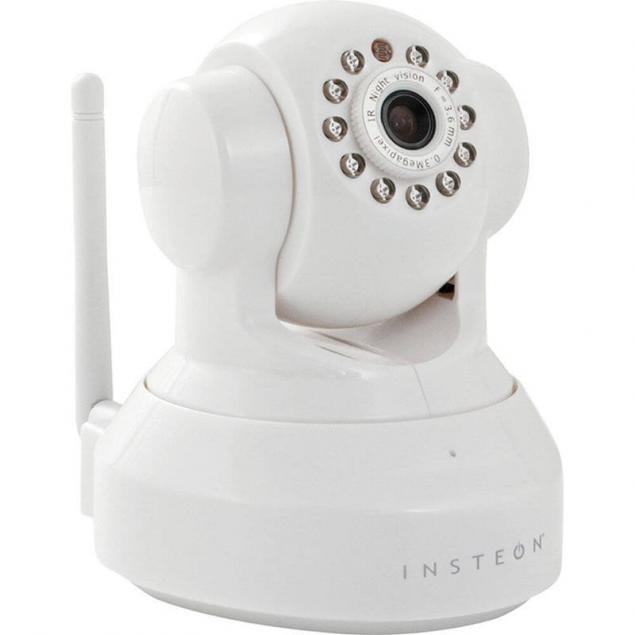 According to the site Statista.com in 2015, the Russian security systems market is estimated at 8.8 million dollars, and by 2020 this amount will increase to $ 59 million. If you address the question of the number of homes with smart security systems, then today this figure is equal to 28 thousands of homes, and by 2020, projected to grow to 240 thousand.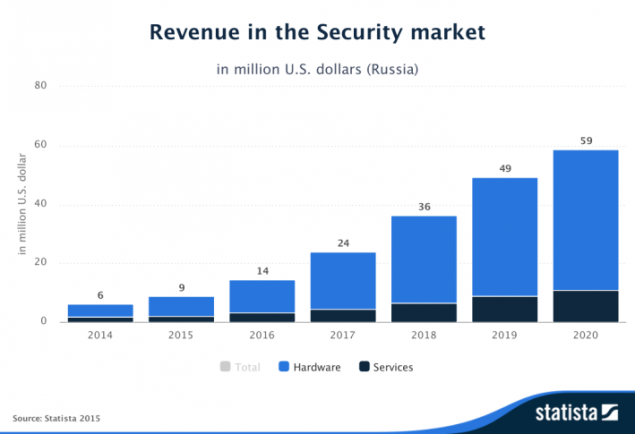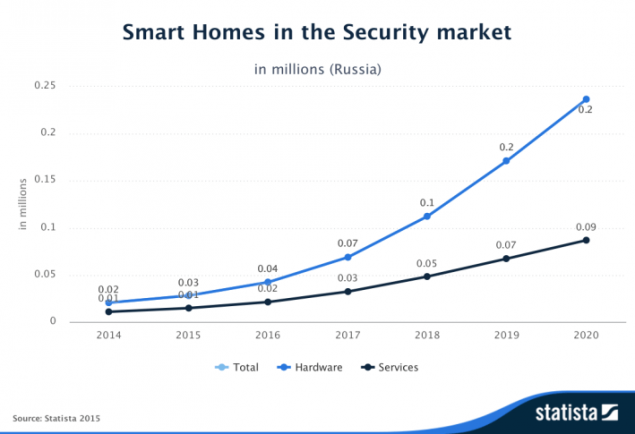 Revenue of security systems market in Russia and the number equipped with systems houses
The functionality of such systems can be extended to fire alarm systems informing you about the smoke, the fire, the excess levels of carbon dioxide or other gas, e.g. methane.
However, smart homes are able to provide not only safety but also comfort of the person. Audio/videocommunity installed throughout the house can be managed from a single device such as a smartphone or tablet.
This so-called system of "Multi". The user can listen to music in any room and even "carry" it with you from room to room. Still these smart systems allow you to program the inclusion of a music centre or TV at a certain time, say, when you come home from work.
According to the site Statista.com in 2015 the market of smart home entertainment systems in Russia is estimated at 10.3 million dollars. By 2020 this amount could grow to $ 70 million. The number of homes is expected to increase from 31 thousand to 350 thousand.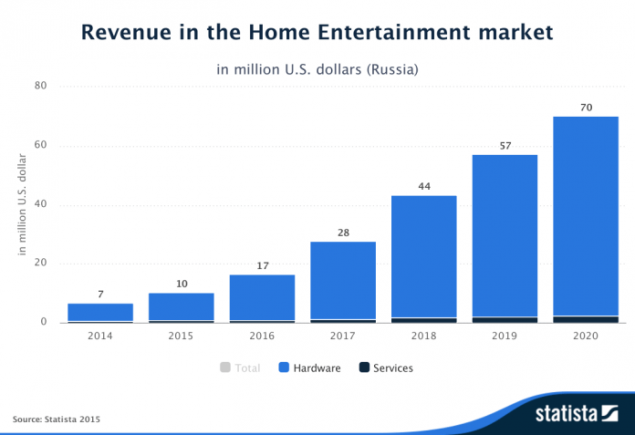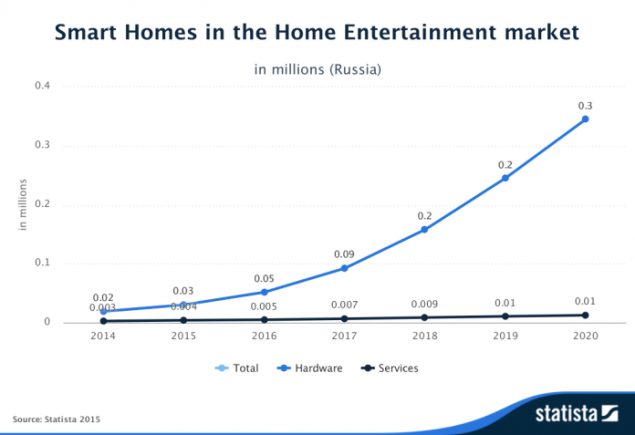 The market revenue of smart home entertainment systems in Russia and the number equipped with systems houses
Such solutions can manage lighting in various parts of the house or apartment, adjusting to the mood of the owner. In General, the control of lighting is one of the first areas that started to develop a smart home.
Today, there are lots of such systems and devices – this smart switches, bulbs, sensors or keypads, ambient light sensors and presence.
For example, the company Nanoleaf offers a smart led bulb that can be controlled with your smartphone both manually and with voice commands, and Belkin delivers smart switches. With the help of "smart lights", the user can customize the illumination as you wish, for example, when it is dark turn on the light in the yard and turn it off with the dawn.
If a person wants the light was switched on when the entrance to the bathroom and off when you exit it, it will help the motion sensor connected to the switch, which would send the appropriate signals. The options for combinations of sensors and smart devices.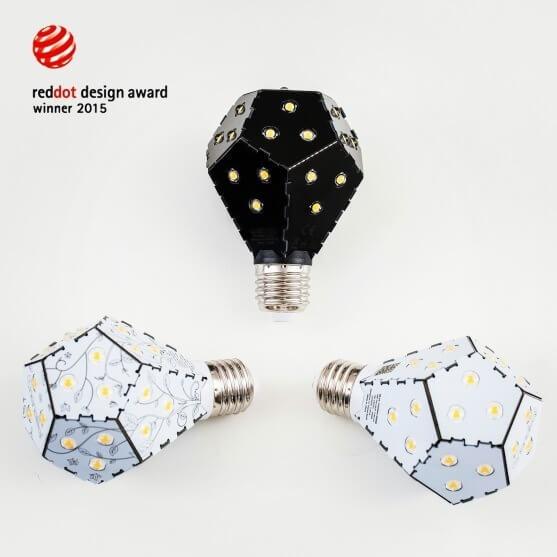 Bulbs Nanoleaf
According to the site Statista.com in 2015 the Russian market of systems of automation of lighting and other detectors and sensors, in Russia is estimated at $ 20 million, and by 2020 this amount is expected to grow to 108 million (the number of homes equipped with these systems by 2020, according to forecasts, will be equal to 400 thousand).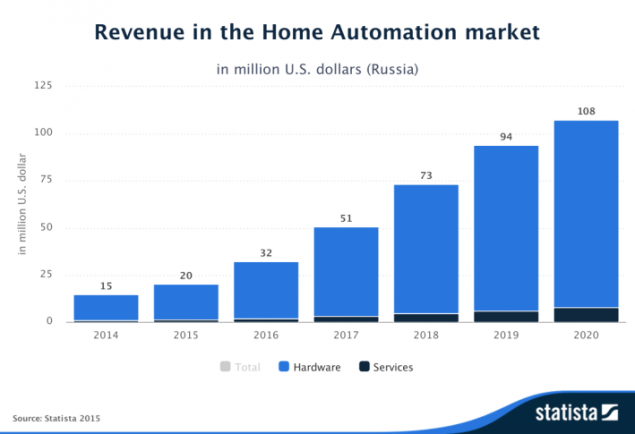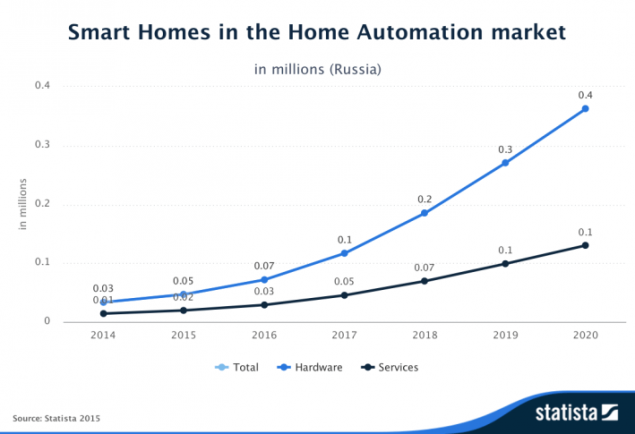 Revenue automation market coverage in Russia and a number are equipped with systems houses
Important elements of comfort are air-conditioning system, heating and ventilation. The cost of heating and cooling of apartments every year becoming more noticeable, and there is no doubt that the device can help to save it, will soon occupy a niche in the market.
The sale has already received more advanced programmable thermostats allow you to control several heating and air conditioning. For example, Nest is the brainchild of the company, bought by Google, the number of sales which have already exceeded one million, and ecobee3, tado, Honeywell.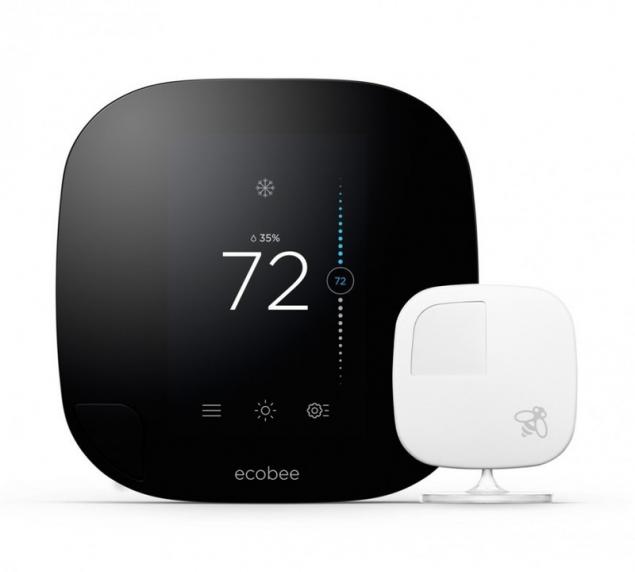 Such devices allow significant savings on electricity. Many of them are configured and managed remotely via smartphone, as well as keep records of the energy consumption, by studying that you will be able to find out how you can save more. Moreover, such systems can heat different zones of the house, depending on where you spend most of the time.
According to the site Statista.com in 2015 the Russian market of smart systems air conditioning and heating is estimated at 9.9 million dollars; by 2020, according to estimates, this amount will increase to $ 58 million. The number of homes with smart air-conditioning systems to date is 55 thousand; by 2020 this number is expected to increase to 330 thousand.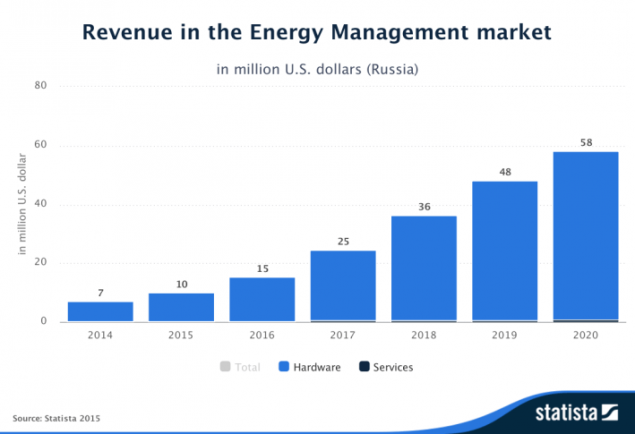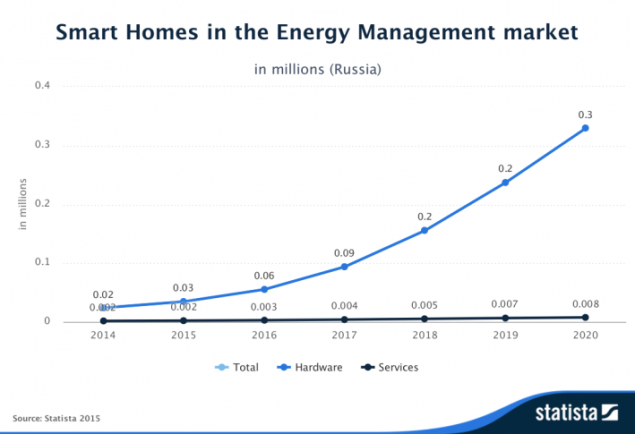 Revenue of market of air conditioning and heating in Russia and a number are equipped with systems houses
The interesting thing is that these revolutionary devices and systems come with their own apps and control hubs. If you buy a few of these systems, it is better to buy some kind of Cabinet where you will place all flashing, "flashing" and beeping control minicenters.
This is not to mention the fact that your smartphone will be a huge number of apps that will need to constantly open, close and adjust. Is in the process of universal automation, our life was not supposed to be a bit easier.
Of course, the market can meet the integrated solutions offered by large companies, but such systems are quite expensive. Moreover, their installation often requires the intervention of professionals. To solve this unpleasant problem appeared on the market the device, allowing to implement a smart home system.
One example is the automation system Iris from Lowe company, based on which you can build a simple and scalable solution. It gives the opportunity to combine in a single interface for an unlimited number of devices (it supports more than 50 types) to manage them using a single application. The system supports data transmission standards, ZigBee and Z-Wave. As additional examples, solutions SmartThings and Insteon is a system based on a Central hub, which can connect a set of devices for different purposes.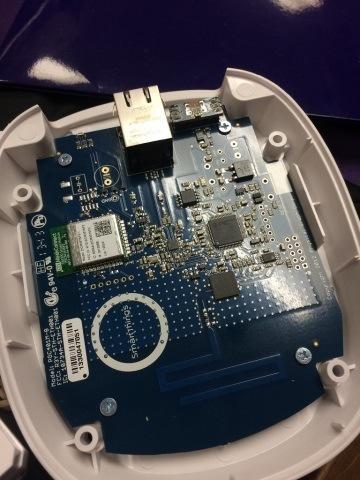 "Inner world" of the hub SmartThings
Hub Insteon
Using the software the user can perform the initial setup of the devices. After that, the hub becomes a tool that allows you to monitor and control home automation devices from any point of the globe – it brings together the work of door locks, temperature sensors, sensors of opening and closing Windows, smart plugs, lighting systems, sensors, fire alarm and traffic (in particular Insteon can control even the "lava lamp").
In addition, it acts as a warning system: for example, if the house will leak sensor, the hub will immediately notify by email, or through a branded app. In General, the key task of the hub – turn your smartphone into universal remote control home.
These systems and additional components to them started to be sold in retail trade (the sale is already engaged in such large networks as Hardware and Amazon). This approach to building a smart home "by parts" allows you to collect a decent automation system gradually, without spending a large amount of money at once. If you intend Lego sets as needed, creating the home of your dreams. published  
P. S. And remember, only by changing their consumption — together we change the world! ©
Source: geektimes.ru/company/gsgroup/blog/277422/