Spice Media Communications Agency ranked the most popular Internet memes 2012.
Almost every week there are new social networking Internet memes: nationwide or even global scale. Internet meme can be anything: from a clumsy phrase famous politician, ending with an unusual roller. That is all that spontaneously gaining popularity in the Internet environment, sometimes illogically.
1. "Who are you? Come bye! »
Video, where Azerbaijani and Talysh meyhanisty singers sing the wedding song "Who are you? Come bye! "Became a sensation on Youtube. Main phrase from the movie quickly picked up by social media, and today video got almost 6 million. Views! Moreover, this meme was born other politically popular meme "Putin, who are you? Let's Goodbye". Meme came into the world of Twitter trends.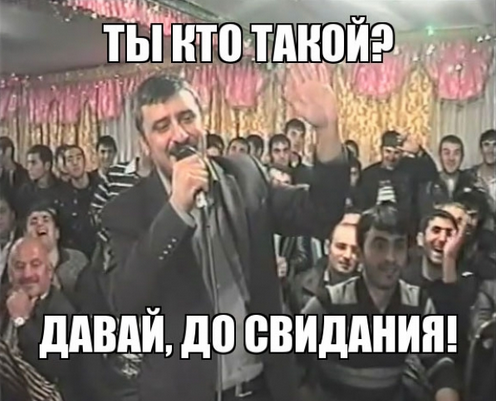 2. Gangnam Style
The single South Korean rapper PSY «Gangnam Style» safely be called one of the most popular memes of the year. In the video, the rapper fun dancing in different places in Gangnam. The idea was picked up funny dance all social networks: began to appear not only the video of dancing users' Ganga style ", but also all sorts of images.
«Gangnam Style» hit the Guinness Book of Records as video, gaining the highest number of "likes" in the history of YouTube.
In November 2012 the number exceeded 5 million likes and display video - more than 700 million. The only video that could overtake «Gangnam Style» on these indicators: the video «Baby» Justin Bieber.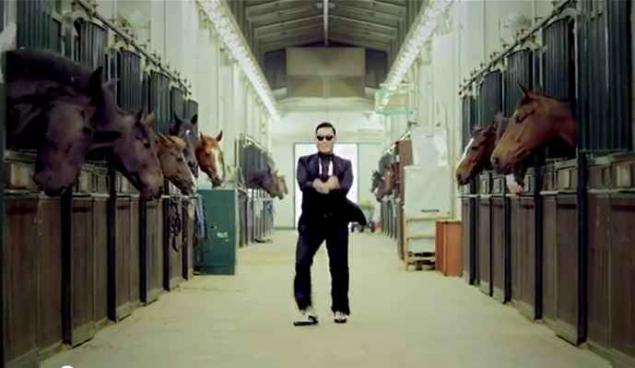 3. Zhirinovsky
Shocking policy is always at the top of the popularity blagodaryaekstsentrichnomu behavior and straightforward phrases. During the race became a popular meme with the image of Zhirinovsky gestures, which he throws up his hands in disbelief. And he is popular until now!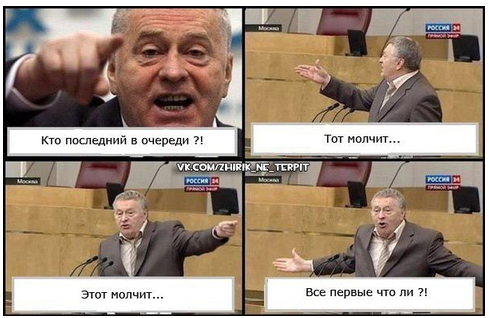 4. Cats
To say that "cat" theme has become fashionable this year alone, is not true. She's on a wave of popularity for a long time, while constantly gaining momentum. Perhaps the most popular "cat" picture this year were pictures Shorthair Snoopy, adorable kitten pictures taken by Ben Torode and very angry cat internet Tarde. Meanwhile, among the SMM-specialist even joke goes: "If you want to collect a lot of" likes ", stick to the text of a cat picture."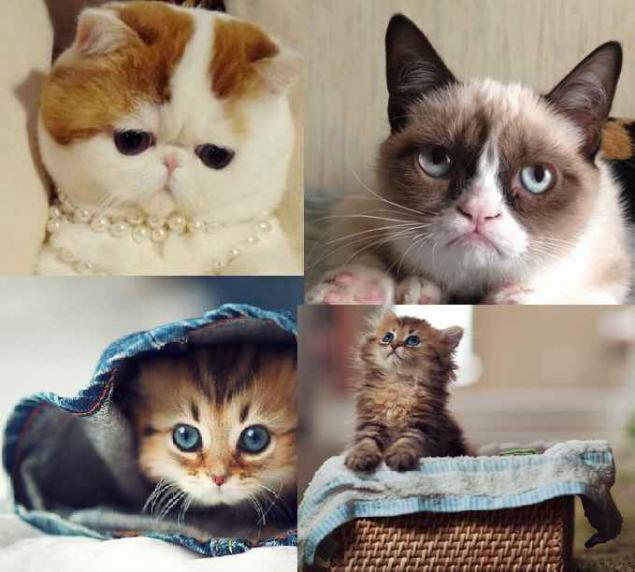 5. "You can not just go and ...»
English meme entered on the Web. The picture shows one of the heroes of "The Lord of the Rings" Boromir, making a characteristic gesture. The phrase in the image always starts the same way - "you can not just pick up and ..." and the end users themselves invent the Internet.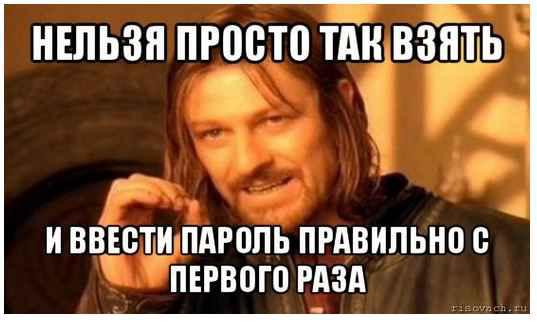 6. Atkritka.com
Social network VKontakte literally crawling with fun self-colored cards with drawings and caricatures funny inscriptions. This is a product of service Atkritka.com, where each user can create their own card.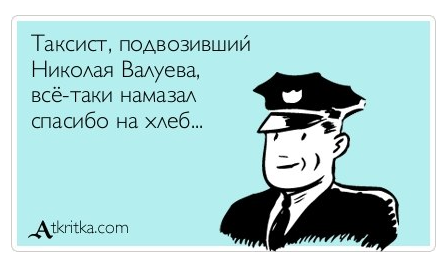 7. Tears Putin, after the announcement of election results
Do not forget about the fact that the year 2012 can be called a politically tense: after all, the presidential election and meetings has not been canceled. During the race there was a large number of popular memes dedicated candidate for the presidency. All examples result impossible, too many of them.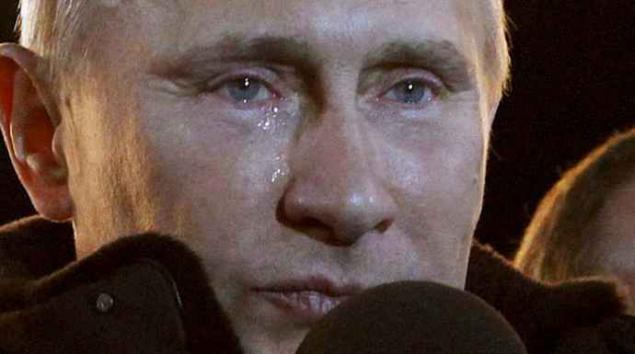 8. The video "Do I need to bury Putin?»
"Do I need to bury Vladimir Putin? This theme is now being actively discussed on the Internet, and gave the idea a presidential candidate Mikhail Prokhorov ... "- a phrase beginning leading Krasnoyarsk TV company TVK Maria Buhtueva one of the news stories, confusing the names of Lenin and Putin. "A reservation is obvious according to Freud" - Runet users noticed and began to distribute video and, of course, the very phrase.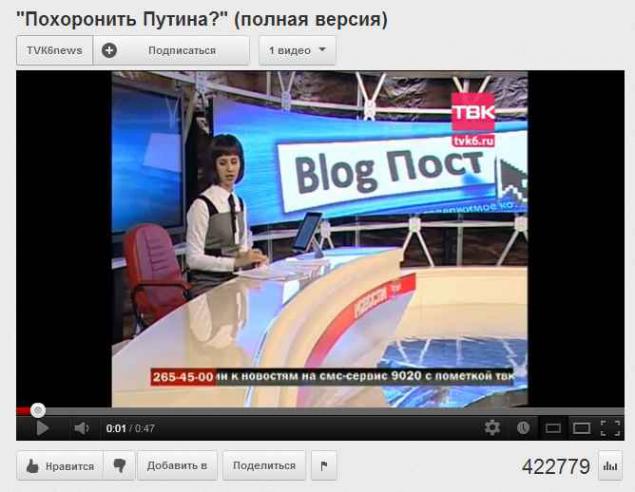 9. Photo embracing Barack and Michelle Obama
Russian Internet users concerned about not only the policy of his native country, but also international events arena. Tweet newly elected President of the United States, which became the most popular of all time Twitter, it contains only three words: «Four more years» («Four more years"), as well as photo and embracing Barack and Michelle Obama. For nine hours after the publication of his retvitnuli more than 600 thousand times. Photo published in Obama's account to Facebook, eight hours managed to gain almost 3 million. Like and became, according to Facebook spokesman Vadim Lavrusika most "laykoemkim" image in the social network. In Russia, meme, oddly enough, has also become popular, though not as widespread as in the United States.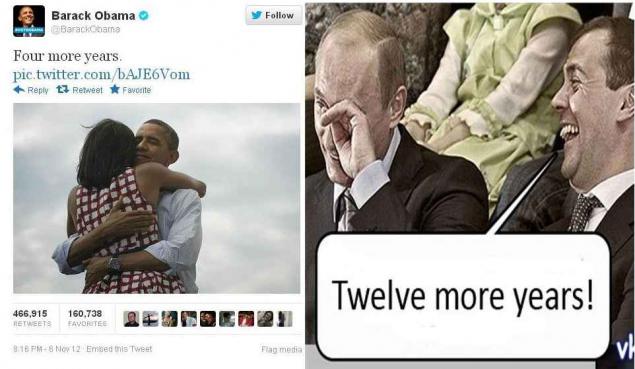 10 Kerzhakov
First, social networks are actively spread the news that the English language has a new verb Kerzhakov. The word denotes kick just wide, and at such close range, from which it is impossible not to get there. Later, Internet users began to mention Kerzhakov wherever similar situation arose:
Posted in [mergetime] 1353155750 [/ mergetime]
Of course, this is not all the popular themes and memes of the outgoing year, but certainly the most memorable.
Source: