Walking along the banks of the Moscow-Volga Canal. Yezhov, who before his arrest was withdrawn and the second of his high office - Commissar of Water Transport - to retouch option next to Voroshilov, Molotov and Stalin no longer exists. Many years later, Khrushchev said that Yezhov was not only an alcoholic, but a drug addict and "got what he deserved».
Top photo: party and government leaders with the artists of the Moscow Art Theatre to celebrate the fortieth anniversary of the troupe, October 27, 1938. Yezhov in the second row, fifth from the right, next to Nikita Khrushchev. Lower picture: published in 1949, due to Stalin's seventieth birthday. Retoucher removed Yezhov and Boyarsky, the former director of the Moscow Art Theatre, at that time, too, was shot. December 8, 1938 Yezhov was removed from the post of People's Commissar of Internal Affairs. His successor became Beria, which is April 10, 1939 Yezhov personally arrested. A 4 February 1940 Yezhov was shot.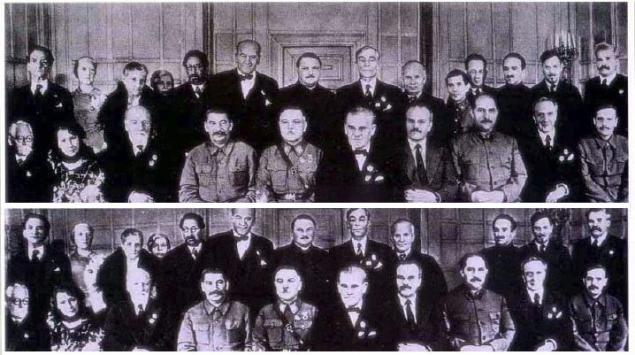 Above: the soldiers who came to the demonstration in the first days of the February Revolution of 1917., Petrograd, Foundry Avenue. In 1917, there were thousands of such cards. In the background is a sign of a jewelry store, "Watch. Gold and silver. " What is written on the flag, it is impossible to read. Below: appeared in the same year version of the same picture, but vyeske jewelry store is another inscription. "In the struggle you will attain your rights." The black flag is turned white, and on it - a clear sign. "Down with the monarchy! Long live the republic! »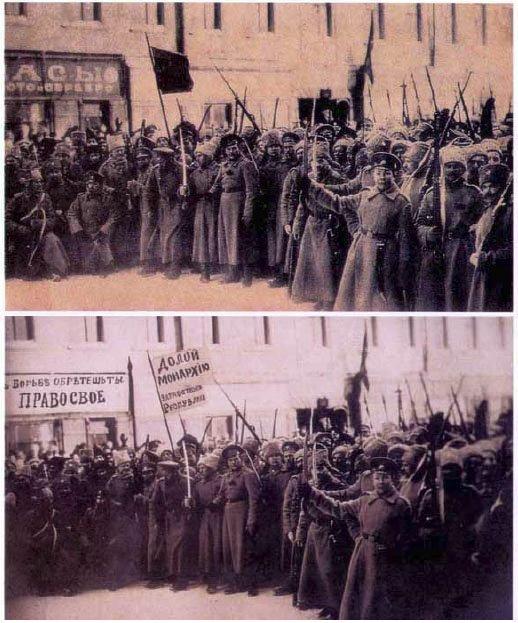 Lenin speaks in Petrograd, Palace Square, July 19, 1920. The picture is made known photographer, Victor Bulla, on the opening day of the 2nd Congress of the Comintern. When the photographer decided to publish again - February 17, 1924. in commemoration of Lenin's issue of the journal "Krasnaya Niva" - the editors apparently found it necessary to emphasize more the popularity of Lenin. Despite the poor quality of printing technology, it is striking that Lenin listening to the crowd is much more impressive than in the original picture. The crowd was photographed on some other occasion.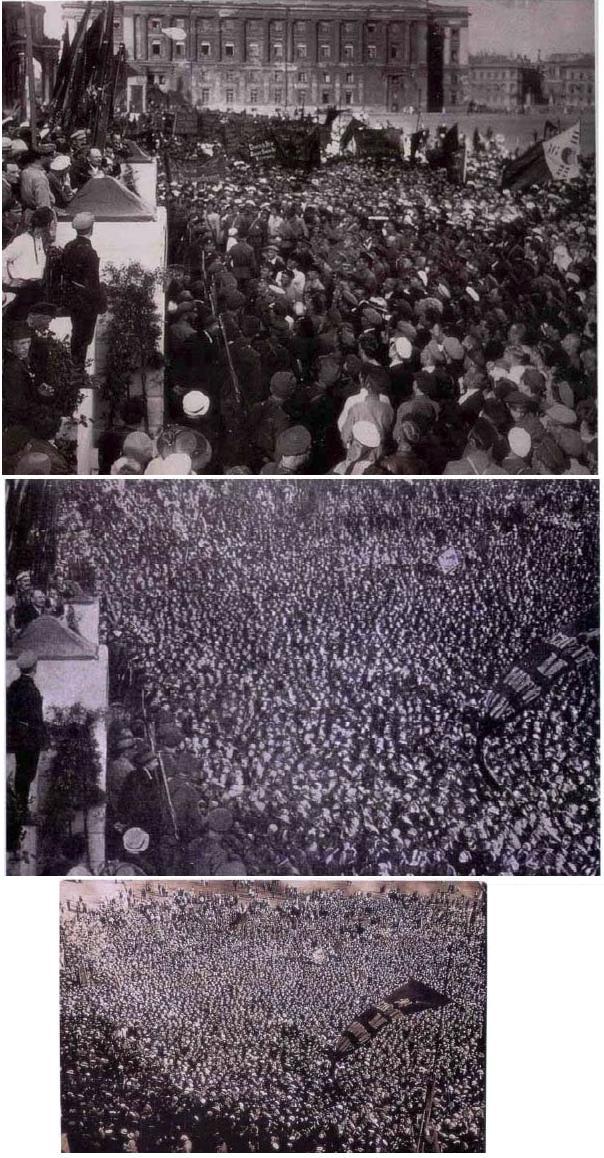 In fact, Stalin was a profound contempt for the simple working people, as evidenced by at least two variants of this photograph, taken in 1930, when Congress passed XVI of the CPSU (b). On one of the original photos izsoprovozhdayuschih helpfully shows the way the "master" (so often called Stalin). When the picture a little later opulikovali in the magazine "Spotlight" was no longer working. There is nothing to show the way to the leader. Children from Kashino