Ford V-8 Bonnie and Clyde (Bonnie & Clyde) (5 photos)
History is full of cars warm moments and happy endings - but also the darkest corners, dead ends and tragedies that happened at high speeds. Some cars have become a part of history thanks to the fact that they were involved in the murder and mayhem. They have acquired a bad name. Model Ford V-8 flew into history under the control of Clyde Barrow and Bonnie Parker (Bonnie & Clyde).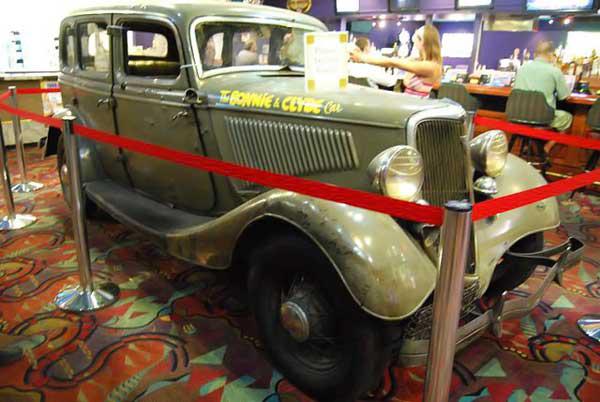 Since their meeting in January 1930, Clyde Barrow and Bonnie Parker were on a date with a bloody fate. Barrow, who vetom year has just turned 21, was jailed for robbery, burglary, but had not spent much time there: Parker smuggling handed him the gun, and he ran away, as it turned out only to then caught it again and put in prison for 14 years. After another inmate cut off two fingers Barrow legs for refusing to carry out the work, the latter was released on the petition of his mother.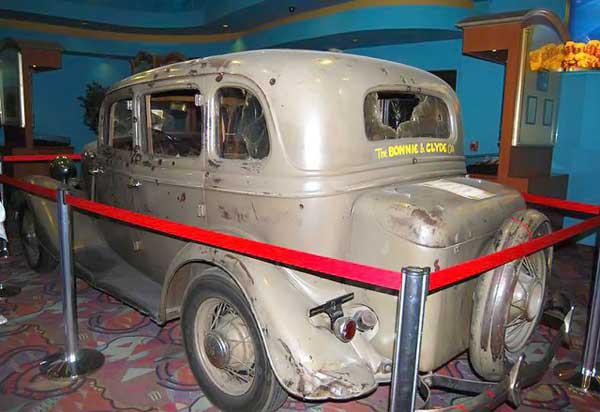 And it marked the beginning of the growth of criminal activity that spawned the legend of Bonnie and Clyde. They organized a band with his brother Clyde Buck Barrow and his wife Blanche, with an armed gunman Raymond Hamilton, with VD Jones, and drove through five states from Missouri to Texas, robbing banks and gas stations and stores, creating for himself the image of criminals.
Press quickly spread their history - as well as the public, at least as long as their crimes did not result in murder. During the four years of their common crimes were 13 deaths among the victims were several police officers. They killed a policeman in the beginning of 1934 in the city of Grapevine, Texas, and another was killed by them five days later in Oklahoma.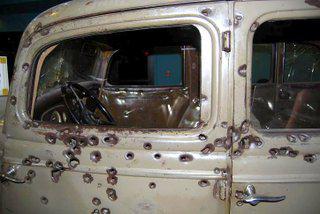 To move from crime to crime, from robbery to robbery, Barrow gang stole cars - among them was the Ford V-8, which subsequently gained notoriety death machine Bonnie and Clyde. Barrow was known for his love of Ford vehicles, and while Ford V-8 was the fastest car. Barrow wrote, but maybe not written a letter to Ford Motor Company that this car is actually "made all the other cars fade before him».
In the spring of 1934 Barrow gang stole a Ford V-8 Deluxe featuring a greyhound on the hood, with a little less mileage than 1,000 miles (1,609 km). Ruth and Jesse Warren is the owner, having bought it a few days before the theft from the agent for the sale of Ford vehicles in Topeka, Kansas. It was almost new, but within a few weeks after the theft of Barrow gang drove it about 7,000 miles (11,263 km) in their criminal race.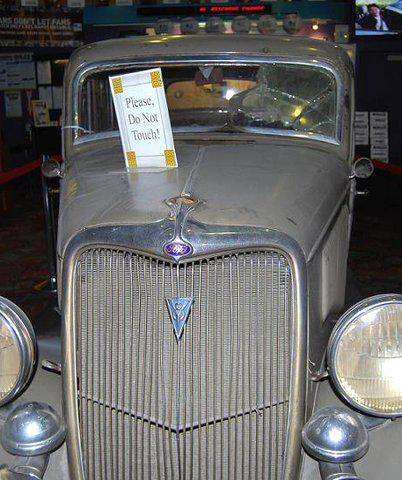 During a recent visit, the members of the gang were shot dead by members of the law or caught and imprisoned. But Bonnie and Clyde remained at large until May 1934, until the authorities have decided to catch them. Police went to the Texas Bienville Parish, Louisiana, Louisiana State Police helped ambush them. More than 100 shots were sent to their car, Barrow and Parker were killed in this battle, their stolen Ford V-8 served as their makeshift hearse as it drove away from the field on a rope.
Bonnie Parker and Clyde Barrow were buried in the city of Dallas, Texas. But their death machine still lives on display at the Primm Valley Resort, the Primm, Nevada. They say that this 4-hdverny Ford sedan has brought millions of owners of the museum. Entrance to the museum Primm paid, but just imagine for a moment how much this "free" car cost Parker and Barrow.